Well Mrs. Boudreaux,
Let's go organize that pantry!
Here are the general organizing zones of a Southern pantry:
Dry Goods - Baking Supplies
Flours, sugars, herbs and spices, pasta, rice, beans (Here's where your red beans and rice belong!) Zatarains Fish fry can also be grouped with these items.
I love to put these items in pretty air tight containers. I have learned its best to keep your Camillia red beans in their 1lb bags so you don't have to measure to cook! Your surplus Community Coffee can be stored here as well.
Canned (or jar) Goods
All cans and jars, but they are separated into like items. Jars of Roux (Not that any true Louisiana chef will ever admit to having this!), dill pickles, canned okra, homemade jellies (May Haw!), and preserves can be grouped with these.
Snacks
Salty, sweet, popcorn, nuts, protein bars, etc.
Breakfast
Cereals, grits and oatmeal for a quick breakfast. Of course, I know grits can be for supper too, but they are easy to find if you keep them in the breakfast area.
Spices
We here in the South really love our spices so we need more space than a typical spice drawer or cabinet. Your file' powder, Slap Ya Momma Spice, Zatarains crab-boil, crawfish boil, Cajun Injectable Seasoning and all that salt will belong in this section.
Oils and Vinegars
Olive oil, peanut oil and any variety of oils and vinegar gets stored in this section. A Lazy Susan is a great way to contain these so you aren't reaching over bottles. I keep the kitchen bouquet here too.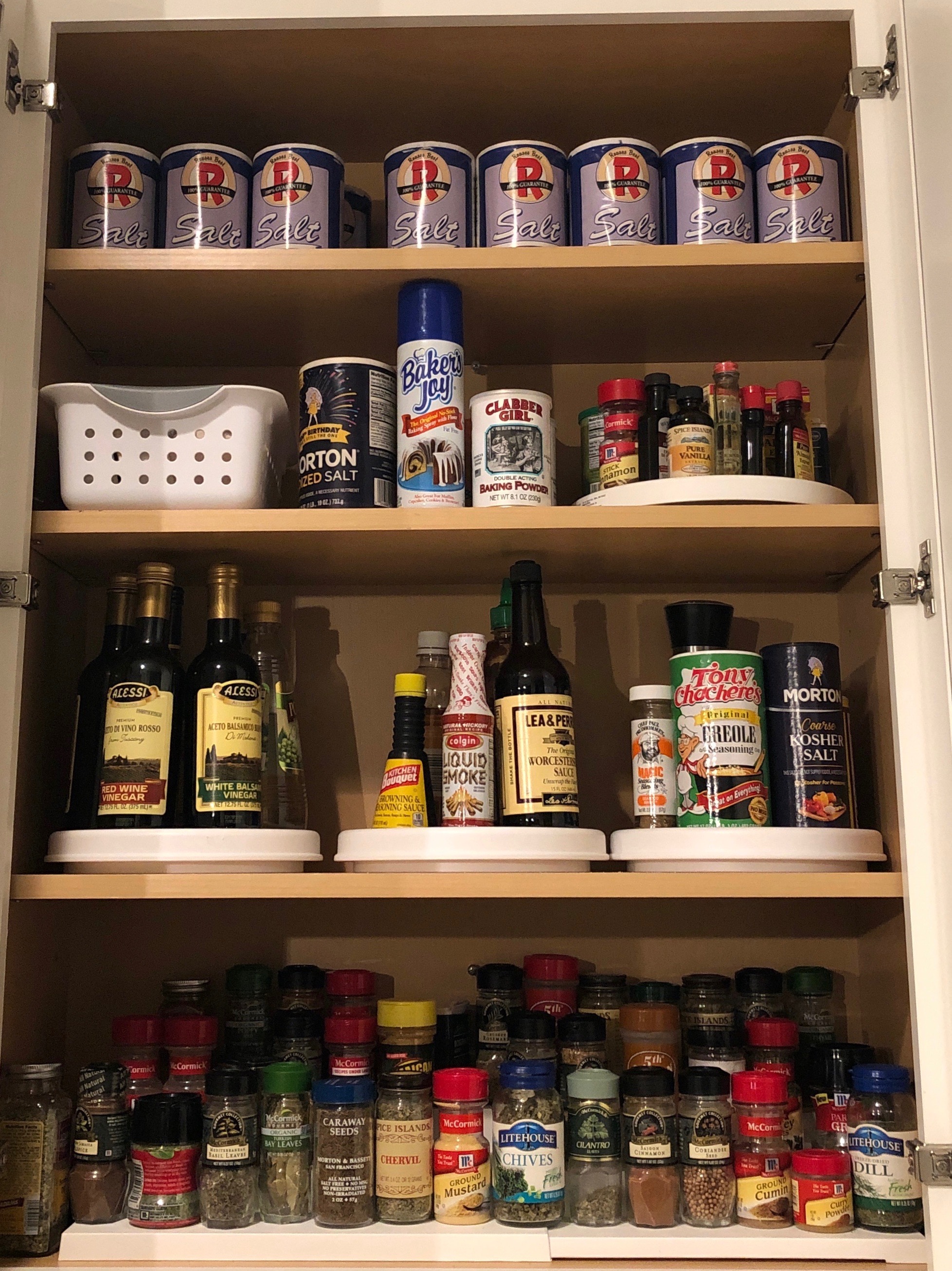 Condiments
Ketchup, mayo, horseradish, mustard, BBQ Sauce
Hot Sauces (any other sauce gets put in the condiment section) - Tabasco, and the 30 other hot sauces get contained in this section. This is also another great place for a Lazy Susan.
Syrups
These don't typically get there own space, but in South Louisiana, we like our Steens Cane syrup! I also keep honey and maple syrup on hand for those that aren't fond of the Cane syrup.
Breads
Hamburger and Hot Dog buns, tortillas, and loaves of bread! (I only keep the one that we are using out, the rest go in the freezer.)
Beverages
Your Zing Zang Bloody Mary Mix, Soda's and water can go here.
Non Essentials
Paper plates, paper napkins, to-go cups, plastic utensils, tailgating gear, lunch boxes.
To be successful at zoning your pantry, it's truly about grouping like items together. Using tools such as Lazy Susans, clear bins that are labeled, and can organizers can really help keep your essentials an arms reach.
Here's a few of our favorites.
And don't forget, always label as much as you can so that your family can find things too!
And lastly, Happy Valentine's Day to all!