I LOVE WRAPPING PRESENTS! I even have a Pinterest board dedicated to unique gift wrapping ideas. For me, gift wrapping is like the final decorating part of the holidays, and y'all know how much I LOVE to decorate. I'm sure several of you are thinking "haven't you been preaching to us about clutter-free gifts?" Well yes we have, but that does not mean you are exempt from wrapping that gift in a way that emphasizes how truly special it is. Today's blog is all about making those clutter-free gifts special.
When it comes to wrapping, I have two philosophies. First, the wrapping should complement or hint at what's inside. Second, it should complement the theme. At this time of year, that theme is Christmas, Hanukah, or Kwanza. Since I consider gift wrap to be the final decorating part of the holiday, I select my gift wrap in colors and textures that complement my decorations.
Get Your Wrapping Stations Ready
So now that you've purchased all of your holiday gifts, let's talk about your gift wrapping area. I think it is important to have a space or container that holds all items necessary to wrap a present. This should include the basics: paper, ribbon, tissue paper, embellishments, scissors, hole punch, ruler, tape, and pens. Tags and cards are also nice. I will oftentimes make my own tags so that they match the gift wrap.
When it comes to paper I suggest you keep these basics on hand: white, off-white, gold, silver, black papers in glazed and matte finishes and craft paper. Over the years, I have been adding beautiful solid colors and patterned papers to my collection.
I am admittedly a bit of a ribbon junkie and will pick up beautiful ribbon throughout the year to add to my gift wrapping station. I typically pick ribbon from the clearance bins unless I happen upon something very special. I like to have a lot of ribbon on hand as I love mixing several colors, patterns and textures to create bows that are extra special. I keep an assortment of ribbon in different widths in grosgrain, satin, jacquard, velvet, and picot edge in solids and prints, with and without wire.
Tulle, raffia, and string are also must-haves in your basic gift wrapping arsenal as well as tissue paper in white and assorted colors. I have also been known to upcycle ribbon and tissue from gifts I receive.
Pro Tip: Did you know you could iron tissue paper on a low setting to remove the wrinkles?
Embellishments are a fun way to add interest to your presents. An old card with a beautiful picture can be trimmed to reuse on a gift as a tag. Old family pictures make for wonderful gift tags. Are you a gardener? Fresh or dried flowers, leaves and sticks are superb to add to a wrapped gift. Ornaments and small toys also make lovely additions to wrapping as do old jewelry pieces. Buttons also make for an attractive adornment.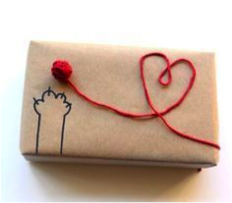 As we count down to Christmas, I would like to recap some of the true clutter-free gifts we have been highlighting. These are gifts that leave no physical footprint. I've broken them down into categories for you.
Subscriptions:
Netflix

Hulu

Amazon Prime

Magazines

Make-up

Food

Beer, Wine

Satellite radio

Audible
Activities:
Museums

Amusement Parks

Movie Tickets

Theatre Tickets

Bowling

Escape Room

Putt-Putt/Mini Golf

I-fly

Zoo

Go-carts

Arcade

Scavenger Hunt

Murder Mystery

NFL, NBA, Baseball, Soccer tickets

Staycation

Vacation

Photo Session
Memberships:
Gym

Roadside Assistance

Golf Club

Country Club

Hunting or Fishing license
Classes/Lessons:
Music

Voice

Foreign Language

Dance

Gymnastics

Martial Arts

Painting

Art

Pottery

Golf

Archery

Horseback Riding

Flying
Services:
Babysitting

Pet Sitting

House Sitting

Freezer Meals

Maid Service

House Cleaning

Lawn Service

Carwash

Car Maintenance

Gas Card

Food:
Freezer Meals

Monthly Subscription

Restaurant Gift Card

Chef's Table

Private Chef
Personal Care:
Massage

Med Spa

Manicure

Pedicure

Facial

Tattoo

Ear Piercing

College Fund Money

Cash

With all of these ideas, you are sure to find the PERFECT gift for that hard to buy person on your list.
Happy shopping! Happy holidays!!
XOXO
- Lisa